Nick's Clinic
LECTURE, DEMONSTRATION & INSTRUCTION
Clinic dates for 2017:
March 21st - 23rd
July 4th - 6th
October 24th - 26th
Download an application (PDF document)
Riding Clinics with Nick Karazissis for all riding levels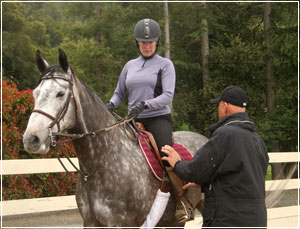 Nick Karazissis is one of the most successful trainers on the West Coast. With his brother Kost and his sister-in-law Jenny, the Karazissis family owns and operates Far West Farms in Calabasas, California. For the last 30 years, Far West Farms has been synonymous with quality, tradition and blue ribbons. The Far West Farms team is responsible for many "A" Pacific Coast Horse Show Association (PCHA) year end championships and is always consistent in its yearly wins and multiple placings in medal finals. In 2006 Nick and his staff received a special achievement award from the California Professional Horseman's Association for its unprecedented PCHA and CPHA medal finals wins (8). The rider who is presently having the most success carrying the Far West Farms Banner is Cayla Richards. Cayla has already won 6 USEF Challenge Young Rider Medal Classes this year to add to her numerous Junior Hunter and Equitation Championships she has won since the beginning of this year.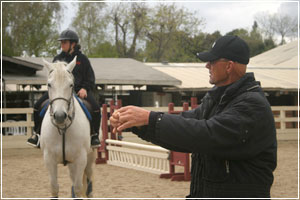 Nick's consistent success in the show ring throughout the last 30 years has made him one of the most sought after judges and clinicians in the United States. Nick has spent the last three years devoted to a project co-coordinated and created for PCHA and USHJA, an educational DVD called "Connected". The goal of the DVD is to unify and make less subjective horse show judging utilizing demonstration of the proper way to perform the USEF Hunter Seat Equitation Tests 1 – 19. In 1992, his peers elected him CPHA "Horseman of the Year". When Nick is not training, giving lessons at Far West, showing, judging and giving clinics, he is involved in the governance of the sport. Nick is presently Chairman of the United States Hunter and Jumper Association's Zone 10, which represents California and Nevada in National issues. Locally, Nick is on the PCHA and CPHA boards.
Spring Down is proud to offer Nick's instruction for its riders as it has done for the last 20 years! SDEC hopes that if your schedule permits you will be able to take advantage of Nick's personal experience and expertise.