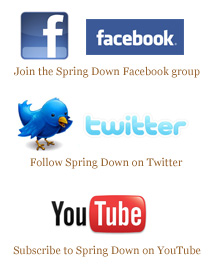 SUMMER CAMPS 2013
$750 for two weeks, $425 for one week (9am - 1pm)
Note: Separate checks, whether deposit, or payment in full, are required for each week please.
Our complete program groups riders according to experience, but no experience is needed to participate. We teach riding, horsemanship and horse care under the care of our knowledgeable instructors and helpers in small, interactive groups. Minimum suggested age for our campers is 6 years old, and there really is no maximum age! Game days the last Fridays include egg and spoon games, two-point challenges, dollar bill games, tricky trot poles, and Simon Says with your horse. Lots of fun!!!
June 17 - 28
July 8 - July 19
July 22 - August 2
August 5 - August 16
August 19 - 30
Learn more about Spring Down camps...
Our Next Horse Show will be on June 2nd, 2013
Spring Down Horse Shows are family-friendly and affordable, so sign up now to reserve your favorite Spring Down Star!
Come support the Spring Down Equestrian Drill Team
The team will be competing at the California Coto Cup Drill Team Competition at the Horse Park in Woodside on August 4th, 2013. Everyone is invited to come out and support our Drill Team. To help raise money to support the Spring Down team, there will be a raffle at our June 2nd Horse Show with 5 fabulous prizes. Please visit the Drill Team page to learn more about this fabulous raffle!
Who Will Be the Spring Down 2013 Medal Champion?
The 2013 Medal Competition begins with the March 3rd show. Whichever riders accumulate the most Medal Class points in our shows over the year will be eligible for the grand prize! This prize will be given out at our December Horse Show.
New Nick Clinic Dates for 2013
Nick is doing very well after an unpredicted accident that occurred this last Fall. He is very motivated to recover and come back to Spring Down for his most wonderful clinic EVER – so sign up for a Nick Clinic at Spring Down in 2013! Next dates are July 2, 3, 4 2013. Sign up NOW to get your favorite horse. Learn more...
Birthday Parties and Girl Scout Events
Birthday parties and Girl Scout events are extremely popular events at Spring Down. Let Spring Down organize and host your birthday party, special celebration, or Girl Scout Event. Learn more...
Special Discount for Spring Down Patrons
Round Table Pizza on Alpine Road, in the Ladera Shopping Center, will give you a 15% discount if you order pizza for any event at Spring Down Equestrian Center!
New Winter Dates for Spring Down's Mommy and Me Series
Upcoming dates for this wonderful series are Febraury 5, 12, and 19. Come to Spring Down with the youngest member of your family to learn about the special connection between horses and humans. Moms, Dads, Grandmas, and Grandpas welcome! Sign up through the Spring Down office by calling (650) 851-1114.
Spring Down Profiled on the Stephanie Herman Show
Spring Down was recently profiled by Stephanie Herman in this delightful video. Watch the video...
Spring Down Stars Trading Cards
Spring Down Stars trading cards make great gifts! Available to buy in the office at 2 for five dollars – and you can get the entire set for $120. New Spring Down Stars will be up on the web site very, very soon! The real stars of Spring down are… the horses! Browse photos and read fun facts on each. Check it out...
Feline Friends of Spring Down
We've had some very cute and very furry friends here at Spring Down. We will have some NEW pictures available in the new year about these wonderful feline friends! Check out the photos…
Welcome to Spring Down Equestrian Center where life is beautiful but horses make it even better.
We've been at the same location for 29 years and serving the Bay Area with exceptional riding lessons and programs. We have over 50 very special, show quality, kind, and safe horses for every level rider – from first time to advanced – who can teach you everything you want to know about riding. Safety is our first priority and fun is our second.
In addition to our incredible horses, we have two lighted arenas. One is covered and the other is our new outdoor arena with unbelievable waterproof, dust-free footing that feels like riding on the beach at low tide all the time, rain or shine, night or day. Boarding available with boxed stalls or paddocks.
We have a full time staff of professional instructors who teach 7 days a week and specialize in English Hunt seat, Dressage, and Western riding. We have many special programs, including Spring, Summer and Holiday camps for all ages, riding clubs, Mommy and Me classes (for Dads too), drill teams where you can ride your horse (or ours) and dance to the music. We have 4 horse shows per year open to the community (again, use your horse or ours), Girl Scout Merit Badges, group celebrations, clinics, and much, much more. Introductory riding packages available for first time customers!
In addition to our riding programs, our other passion is to improve awareness and knowledge about the care necessary to maintain horses, both physically and mentally, and to educate the community about what is involved to keep a horse healthy and happy. We sincerely want to share our knowledge in regard to all related issues involving equines, and to give any person who is interested the opportunity to become involved with horses. Our mission: to facilitate all who are interested to see the world through a horses eyes and to promote the human/horse connection.
We warmly welcome you to visit any time. We are conveniently located in beautiful Portola Valley midway between San Francisco and San Jose, just off Hwy. 280.